We're inspired by the passion to help people live healthier, happier lives. It's the reason why Dr. Kenzo Kase® has dedicate his life to the creation of an alternative healing method, tool, and continuous demand for improvement and invention.

Together, we are driven by the collective belief in the power of natural healing, education and wisdom to drive innovation,. We're here to help empower people to take care of their patients, themselves, and their loved ones. With our specially formulated ingredients, vigorous quality checks, and passion for educating others, we look at healing differently. A different approach to healing that makes a difference…to LIVE DIFFERENT.
Live Different has 4 elements: Pride, Science, Wisdom, and Challenge.

Kinesio® products are proudly made in the USA where we combine science, research based wisdom, and a long history of challenging current thinking in all our tape and education.

We do what we do because we want to change the path and focus of treatment. Inside Kinesio, you'll find medical practitioners from around the world alongside talented, passionate people with a drive to make a difference. They work tirelessly to innovate, strive for the best, and research cutting-edge elastic therapeutic tape advancements to make it happen.
Kinesio has been innovating since the very beginning – from making the world's first elastic therapeutic tape which is clinically proven, doctor recommended, and the hospital preferred tape around the world. Nothing is more important to us than the health of patients. That's why we make sure our products meet or exceed our 12-step quality check before leaving our U.S. based manufacturer.
Kinesio University®, home of Kinesio Taping® education, is the only organization that is 100% dedicated to advancing and spreading knowledge of the Kinesio Taping Method and its benefits. We are committed not just to training medical practitioners, but to training every and anyone, with the skills, knowledge, and confidence to apply the Kinesio Taping Method to achieve exceptional results.
Our Live Different campaign is about people. The stories we've heard over the years on how Kinesio Tape & Kinesio Taping has helped never gets old. It's amazing how a special mixture of some fabric, adhesive and knowledge can result in so many transformed lives. It's about the way Kinesio has changed their lives, giving them the ability to Live Different.
We'd love to hear your stories and experiences. If there is a "Live Different" story, you'd like to share about your experiences using Kinesio tape on yourself or with a family member, friend or patient – please submit any videos, photos and text to socialmedia@kinesiotaping.com, tag Kinesio with the hashtag #KinesioLiveDifferent or you can fill out the form below.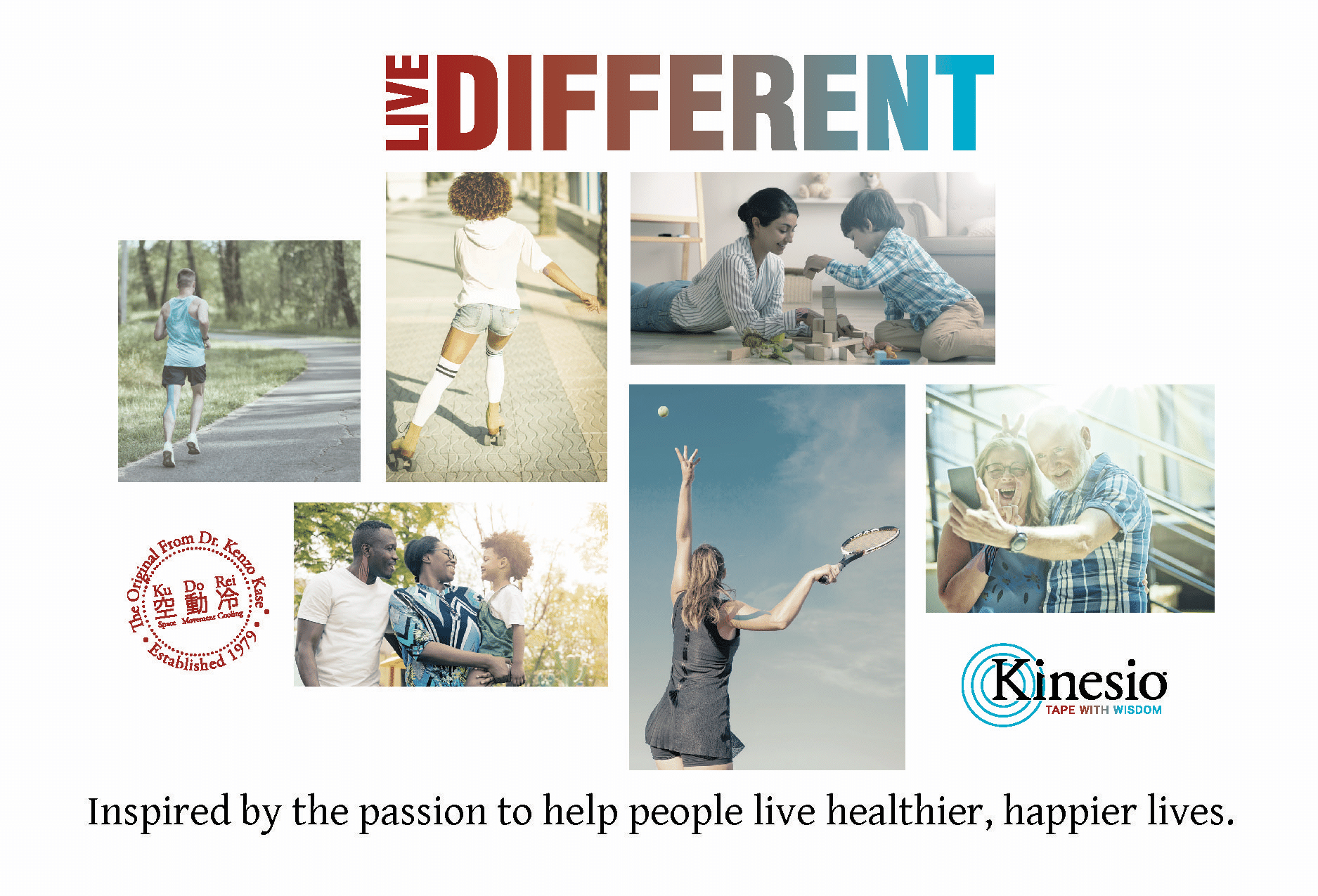 Your Rights You will retain all rights to any photograph or text you submit — including joint ownership with the Kinesio Group If you submit a photograph or text, you grant the Kinesio Group a royalty-free, nonexclusive right and in perpetuity to:
Display the photograph and text on Kinesio's websites.
Allow third-parties to share the photograph and text on the following social media platforms: Twitter, Facebook, Instagram, and district websites.
Use the photograph on the Internet and in Social Media in support of our mission.
Use the photograph in Kinesio Group's internal and external communications materials including but not limited to web sites and web publications, fact sheets, fund raising publications, advertising, multimedia, presentation, and annual report
Provide your photograph to other individuals and organizations for Kinesio Group- related use in news stories, newsletters, magazine, reports, slide shows, displays, web pages, videos, and the like.
Use your name in promotions and other publications.